StarTech.com
S-Video / Composite to USB Video Capture Cable w/ TWAIN and Mac Support
Capture and convert an S-Video or Composite video on your PC or Mac®, as digital media
Works with Mac® or Windows® computers
Choose from MPEG-1, MPEG-2, or MPEG-4 video encoding
Features TWAIN support for use with various software titles
View More
Supports NTSC, PAL, and SECAM video capture
Up to 30 fps analog video capture capability at maximum resolution of 720x480(NTSC) / 720x576(PAL)
Plug and Play device installation, requires no power adapter
Snapshot function allows you to capture still images from video
Small and lightweight design offers convenient portability for on-the-go applications
The SVID2USB23 USB 2.0 S-Video & Composite Video Capture Cable offers an easy to use analog video capture solution, enabling you to grab video from an S-Video or Composite video source, as well as the accompanying 2-channel RCA audio, to your Mac® or Windows® computer.
The cable connects to your desktop or laptop computer through USB 2.0, and is compact enough to fit in the palm of your hand, providing a conveniently portable video capture solution that's more than suitable for use with laptops and desktop computers alike.
An easy-to-use device for recording analog video to your computer from external sources, such as a VCR or camcorder the SVID2USB23 offers the perfect solution for Betamax or VHS video capture, with real-time MPEG-1, MPEG-2, and MPEG-4 encoding, as well as TWAIN support, to ensure compatibility with a wide range of systems and software.
This analog video capture cable supports a broad range of operating systems, delivering seamless analog video capture for Mac® computers (OS 10.X), and Windows® PCs (Windows® 7/8/8.1/10, Windows® 2000/XP(32/64-bit)/Vista(32/64-bit)).
Backed by a StarTech.com 2-year warranty and free lifetime technical support.
Applications
Convert VHS home movies to digital format - Connect your VCR, camcorder, or any other analog video source to your Mac or PC and capture your audio/video in MPEG 1/2/4 format
Import recorded videos onto your Mac® or Windows® computer for editing, and make your own compilation
The StarTech.com Advantage
Support for both Mac® and Windows® operating systems ensures convenient cross-platform compatibility
The supplied software supports NTSC, PAL and SECAM video capture input formats, as well as multiple file format options, delivering maximum flexibility for more convenient video capture
TWAIN support allows for choice of various video capture and editing software titles
Features a small, lightweight USB-powered design, which makes for a sleek and portable video capture solution
Technical Specifications
Warranty Information
Warranty
2 Years
Hardware
Audio
Yes
AV Input
Audio RCA
Composite
S-Video
AV Output
USB
Chipset ID
eMPIA - EM2861
Industry Standards
NTSC, PAL, SECAM
Video Encoding: MPEG 1, MPEG 2, and MPEG 4
DirectShow Compatible
Performance
Maximum Analog Resolutions
720x480(NTSC) / 720x576(PAL)
Maximum Data Transfer Rate
480Mbps
Connector(s)
Connector A
1 - USB Type-A (4 pin) USB 2.0 Male Output
Connector B
1 - Composite Video (1 x RCA) Female Input
1 - Stereo Audio (2 x RCA) Female Input
1 - S-Video (4 pin, Mini-DIN) Female Input
Software
OS Compatibility
Windows® 2000, XP, Vista, 7, 8, 8.1, 10
Apple® OSX 10.6 - 10.14
Special Notes / Requirements
Note
The MPEG 4 video file format is supported on the included SVID2USB23 Capture software for Mac and other third party DirectShow™ capture software such as OBS
movavi® video software does not support the MPEG4 video file format
Environmental
Humidity
5~85% RH Non-condensing
Operating Temperature
0°C to 50°C (32°F to 122°F)
Storage Temperature
-20°C to 60°C (-4°F to 140°F)
Physical Characteristics
Cable Length
20.7 in [527 mm]
Color
Black
Material
Plastic
Product Height
0.6 in [1.4 cm]
Product Length
3.1 in [80 mm]
Product Width
1.3 in [34 mm]
Weight of Product
2.3 oz [66 g]
Packaging Information
Package Height
1.6 in [41 mm]
Package Length
5.7 in [14.6 cm]
Package Width
8.2 in [20.8 cm]
Shipping (Package) Weight
6.2 oz [177 g]
What's in the Box
Included in Package
1 - USB Video Capture Cable
1 - Software CD
1 - Driver CD
1 - Instruction Manual
Compatibility







View full OS compatibility
Windows® 2000, XP, Vista, 7, 8, 8.1, 10
Apple® OSX 10.6 - 10.14
Frequently Asked Questions
Before You Buy
Installation
How to
Troubleshooting
Compliance and Safety
California Residents
Warning: See Proposition 65 Notice
California Proposition 65 Warning

Warning: Cancer and reproductive harm — www.p65warnings.ca.gov
Safety Measures
If product has an exposed circuit board, do not touch the product under power.
If Class 1 Laser Product. Laser radiation is present when the system is open.
Wiring terminations should not be made with the product and/or electric lines under power.
Product installation and/or mounting should be completed by a certified professional as per the local safety and building code guidelines.
Cables (including power and charging cables) should be placed and routed to avoid creating electric, tripping or safety hazards.
* Product appearance and specifications are subject to change without notice.
* Same day shipping is only available for orders shipping within the United States.
S-Video / Composite to USB Video Capture Cable w/ TWAIN and Mac Support
Customer Reviews
3.4

(

7

reviews)


3.4

out of 5 stars
Tell us what you think of this product.

Need a little help getting started? Check out our review guidelines.
(

2

stars)
Worked great until Mac OS 10.15 update
This product worked as advertised. But then I upgraded to Mac OS 10.15 and now the software won't run because it hasn't been updated to 64-bit only which is required to run on Mac OS 10.15.
Comment
Helpful?
Yes -

0
No -

0
Report
Response from StarTech.com:
Matt, Customer Support
on 10/18/2019 3:42:45 PM
Hi Jeff. Currently, SVID2USB23 is incompatible with 10.15 as support for 32bit software/drivers was removed with macOS Catalina (10.15), and updated 64bit software/drivers have not yet been provided by the manufacturer of the chipset used in this product. Unfortunately, in order to use this product, you'll have to remain on 10.14 or, if you've already updated, reinstall 10.14 or an earlier compatible version. We understand this may be frustrating and apologize for the inconvenience, however for the foreseeable future the product remains incompatible with 10.15.
(

1

star)
32-bit only!
By:
bunnyhero
on

10/07/2019
if you're using a modern mac OS, DO NOT BUY THIS PRODUCT. it only supports macOS 10.14 or earlier!
Comment
Helpful?
Yes -

3
No -

0
Report
Response from StarTech.com:
Matt, Customer Support
on 10/18/2019 3:41:15 PM
We are aware of this issue and apologize for the inconvenience. MacOS Catalina (10.15) removed support for 32bit software/drivers, and while updated 64bit software/drivers have been requested from the manufacturer of the chipset used in SVID2USB23, they have not yet been provided to us. A workaround would be to remain on 10.14 or to reinstall 10.14 (or an earlier version that is supported). Again, we apologize but unfortunately, this product is currently incompatible with macOS 10.15 for the foreseeable future.
(

5

stars)
Worked good for me!
Ive actually had mine for a couple of years. The first one I owned had temperature problems and as it warmed up the picture would go bizerk. (thats an electronic tech term) Anyhow, StarTech CS shipped another out to me after working with my on the phone, didnt want the old one returned. Its worked beautifully since. Well now Im changing over to Linux and I was looking for Linux compatible software but it looks like Im going to end up having to use a virtual machine if I conti to use the SVid.
Comment
Helpful?
Yes -

0
No -

0
Report
(

1

star)
Strange behavior
By:
El Blavet
on

07/28/2019
I have a surveillance camera with PAL signal outputs S-video & composite. In my MacBook Pro (Mohave) this device don't detects the PAL signal but the NTSC (!?) The image appears with te bottom cropped, a lot of lines, and the format isn't the expected aspect ratio 4x3. What's goin on?
Comment
Helpful?
Yes -

0
No -

0
Report
Response from StarTech.com:
Matt, Customer Support
on 7/30/2019 2:57:45 PM
We're sorry to hear about the difficulties you're experiencing with our SVID2USB23. In macOS, if you go to the 'Record' menu, then 'Video Settings' and then choose the 'Compression' tab, you can change the Compression type to a format for PAL. If you're still having difficulties after changing that setting, please feel free to contact us at www.startech.com/support. Our Technical Advisors are available 24 hours a day, 5 days a week to provide support.
(

5

stars)
Twain Drivers works good, WDM and DirectX too
By:
jwilli84
on

08/22/2017
I had trouble understanding the driver installer will (by default) install the video and audio components as (audio) components.. not "if" it does.. then have to complete the install by going manually into the 64 or 32 bit driver directory and updating the driver.. then it shows up as an Imaging device and a singular Audio device. Twain driver has be installed separately too.. and the drivers always produce big red scary warning dialogs.. so have to override to get them in Windows 7 x64. Irfan is the freeware Twain test tool I used for testing, I had installed the Twain32 driver and Irfan32 on Win7x64.. the 32 and 32 could see each other and select File/Acquire/Select Twain - USB 2861 Video and a live popup window appeared allowing me to select Composite or S-Video as the source and the Capture size.. settings brings up the DirectX Decoder/ProcAmp/Image panels for tweaking the image. Capture is a simple button and it dumps the frame shot into Irfan as expected. XnView > Scan natively uses the Twain32 driver like you would expect, no glitches. ArtWeaver Free also invokes Twain32 and captures no problem. Windows Live Movie Maker treats it like a Wecam source, when the drivers are properly installed (this) opens a selection and fine tuning dialog and then lets you capture video and sound to "clips". The sedcondary dialogs are the DirectX dialogs, color is good but old VHS tapes may have some timebase "swimming" in them without a corrector device. VLC captured both video and audio.
Comment
Helpful?
Yes -

8
No -

2
Report
(

5

stars)
Works Great
Simple install and works great to capture analog video. Just make sure device is connected to a USB 2.0 or 3.0 port. USB 1.1 port will cause dropped frames during capture.
Comment
Helpful?
Yes -

10
No -

3
Report
(

5

stars)
Capture and Convert Video Like A Pro!
By:
RichFarr
on

03/18/2014
The "Composite to USB Video Capture Cable" works exactly as expected! I use this to transfer my old home movies and tapes to my computer and I love this device! I did have a small problem in first using the cable in updating drivers. However, StarTech.com technical support was able to help me resolve it easily. They answered my questions and addressed my concerns quickly, in a very professional and user-friendly manner. An unexpected and pleasant surprise was their outstanding follow-up. I am very pleased I purchased this device from StarTech.com. Other companies could learn how real sales and technical support works by calling StarTech.com!
Comment
Helpful?
Yes -

3
No -

9
Report
I purchased this product, hoping it would meet all my expectations...sadly, it never gave me the chance to see if if worked.. after 4 hours of trying to download/install the drivers for it.. it finally told me it wasn't "compatible with the system"... I am running Windows 8.1.. so, despite the claim that it will work with that O/S.. it won't.. when I can afford to upgrade my O/S.. I will purchase this item again and see if it works.
Helpful?
Yes -

0
No -

0
Report
I purchased the USB video converter to convert my VHS tapes to digital but I guess it is not compatible with Windows 8. Any suggestions?
Helpful?
Yes -

0
No -

0
Report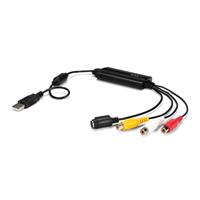 S-Video / Composite to USB Video Capture Cable w/ TWAIN and Mac Support
Product ID: SVID2USB23