What is USB attached SCSI or UASP?
We have all experienced a profound paradigm shift in how various forms of content is now being created, made digitally available, and shared. We are capturing more and more of our lives today in a digital form.The challenge is not only to create and capture this content, but to aggregate, analyze, store, and share this copious amounts of data, both locally and globally. As this trend continues and technology improves, the quantity of data and the size of it continue to grow exponentially, the data needs to be stored and backed up. And so we all back up our data, right?
USB technology has improved a lot in the past 10 years, making it possible to transfer and backup bulk amounts of files faster than ever before. USB 3.0 currently supports speeds of up to 5.0 Gbps of bi-directional bandwidth. Next, in this natural progression is the USB 3.1 with a whopping 10Gpbs bandwidth.
The mainstay of mass storage for both USB 1.1 and USB 2.0 has been the Bulk-Only Transport (BOT) standard. This served the computing industry well with its modesty in affordability, efficiency, and simplicity. However, for some, this speed is not enough due to the sheer volume of data that require backing up. Good examples are pictures, videos or if you are an enterprise/business user, server and computer image backups. This is where UASP can be of great assistance to you.
What is UASP?
UASP stands for USB Attached SCSI Protocol. It allows for faster read/write data speeds to and from storage devices.
Compared to traditional USB 3.0 BOT, UASP performs up to 70% faster read speeds and 40% faster write speeds at peak performance.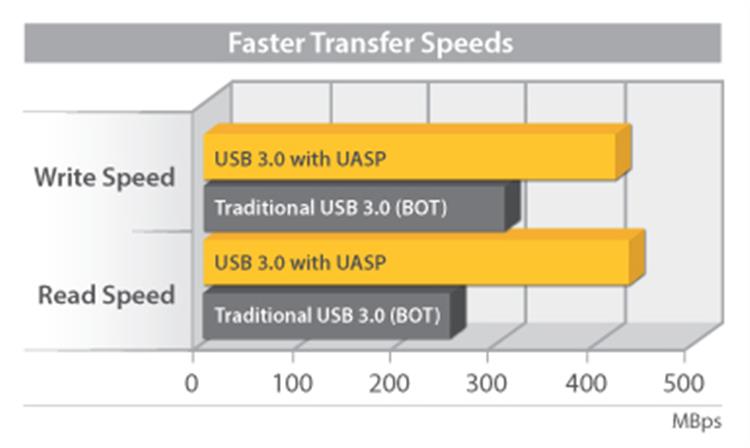 This is made possible due to the way UASP functions in comparison to USB BOT. UASP processes transfers in parallel, delivering data signals (Commands, Status, and Data In & Out) in dedicated "pipes". BOT on the other hand, requires each signal to travel on the same "pipe", taking turns, thus slowing the file transfer process.
Another benefit to UASP is the reduction of required processor resources used by traditional USB when transferring data. At the same peak in testing, UASP shows an up to 80% savings in processor resources.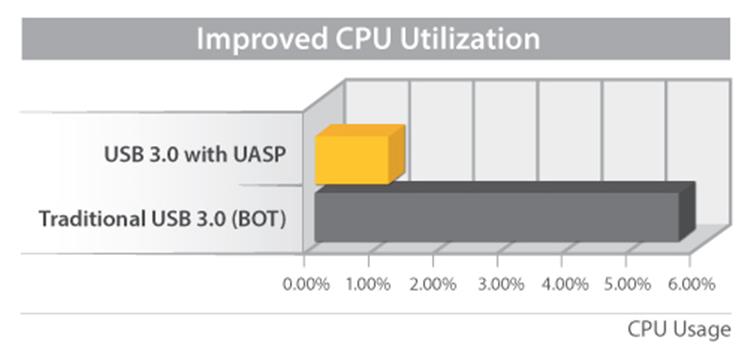 How do I know if I have UASP?
To take advantage of UASP-enabled devices you will need to be running Windows 8 or newer, or Mac OS X 10.8 or newer. Some versions of Linux running kernel 2.6.3 and higher can take advantage of UASP, but it is limited to a very small set of supported hardware.
Most USB 3.0 hard drive enclosures and docking stations support UASP. All supported StarTech.com UASP hard drives docks and enclosures include UASP in the product title as well as the technical specifications section. And with the new USB 3.1 Gen 1 (5 Gbps) and USB 3.1 Gen 2 (10 Gbps) enclosures for 3.5" SATA drives, you will be able to get the speed and capacity you want in external data storage. Our single-drive enclosure for 3.5" SATA hard drives gives you Super-Speed Plus USB 3.1 Gen 2 (10 Gbps) performance with a large drive capacity of up to 6TB – twice the speed of Super-Speed USB 3.0 (USB 3.1 Gen 1) technology. It lets you leverage the high performance of the latest SSHDs and hard drives while alleviating bottlenecks in your data transfers.
Having a supported Operating System and hard drive enclosure/dock are not the only requirements for taking advantage of UASP. Your USB controller on your computer also needs to support UASP. Like enclosures and docks, most controller cards, including StarTech.com ones, are UASP supported but be sure to check the specifications before purchasing a new card.
Taking advantage of UASP will save you a lot of time when transferring large amounts data, enhance your PC's performance and free you up sooner to get back to the daily grind.
Check out our lineup of UASP supported products:
UASP External Hard Drive Enclosures
**We have been working hard to enable TRIM as a standard feature and offer firmware solutions for our newly released storage products but at this moment it is not fully supported with all products. We have a solution currently available for all of the enclosures listed below, and we are working to release a field upgradable version for our other USB 3.1 Gen 2 products.
StarTech.com products that support TRIM.
If you have any questions regarding this issue, our Tech Support is always available to answer your questions: https://www.startech.com/Support