When the ability to connect to multiple monitors was introduced many years ago, it allowed working on multiple documents to become incredibly efficient. Display devices are a critical component of the workstation experience. According to a Jon Peddie Research study, multi-display systems can result in a 42 percent increase in productivity, and the demand for more screens are increasing. New technology, specifically DisplayPort's Multi-Stream Transport (MST) – is now making this a reality for many users. Picture this: email on one screen, an Excel spreadsheet on a second, and a PowerPoint presentation on a third.
Smaller devices = fewer ports
Today, graphics cards are capable of handling the demands of at least two simultaneous outputs, and often even more. With the shrinking size of our devices, particularly laptops, tablets and smartphones – the availability of alternative ports (e.g. VGA, DVI, and HDMI) is becoming a rare sight. The smart people at the Video Electronics Standards Association saw an opportunity in this trend. They set about developing MST technology to allow a single DisplayPort port to extend your desktop across multiple monitors. MST was introduced in DisplayPort 1.2 (2009) and in the market shortly thereafter (see DisplayPort's product database if your monitor is supported).
What does MST mean for you?
MST can be leveraged using two types of system configurations. The first option is to use MST with daisy-chainable displays, which must have built-in MST functionality. "Daisy-chaining" is a term that describes the ability to connect a series of devices together using a single standard DisplayPort 1.2 cable connection between each two devices and possibly more. The new DisplayPort v1.2 daisy-chainable displays have both a DisplayPort input and a DisplayPort output. The DisplayPort output connects to the next downstream display. This arrangement, one DisplayPort cable between each set of monitors, provides a less cluttered system configuration. Each of the displays, with the exception of the last display in the chain, must have DisplayPort 1.2 receiver(s) and transmitter(s). The last display can be an older DP 1.1 monitor. The operating system on the source device will see the daisy-chain devices as separate displays, and they behave as if they were connected via their own separate inputs (see the image below to see how the screens are arranged).
Screen A, B, and C are each connected using a single DisplayPort cable. Screen A is then connected to the laptop or PC, which addresses the three as separate displays.

The second option is the MST hub configuration. The hub provides the MST functionality by splitting up the DisplayPort 1.2 video that streams from the source device and independently routes them to each display device. This way, the displays appear separately in the operating system and can be arranged as an extended desktop. The MST hub configuration allows the use of non-DisplayPort 1.2 monitors or legacy monitors you may have such as VGA, DVI or HDMI with the assistance of DisplayPort to VGA/DVI/HDMI converters. The only factor limiting the number of displays is the graphics card (see your manufacturer's website for more information).
See the MST hub configuration below.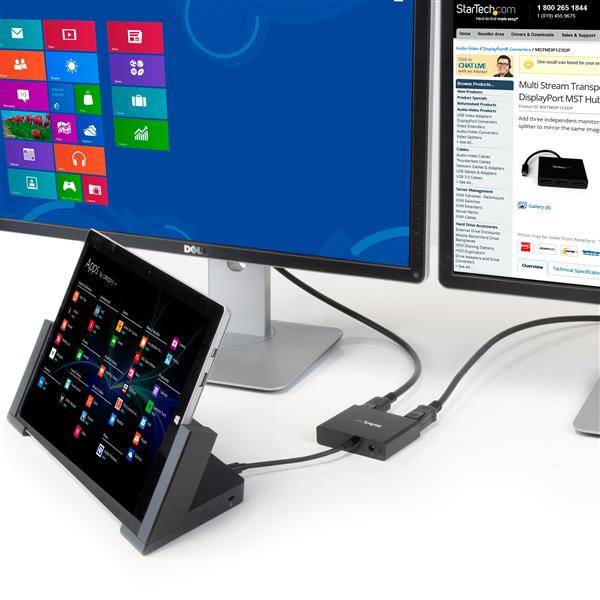 Screen A is how the extended desktop configuration would be displayed.

Using the MST hub with the assistance of DisplayPort to VGA/DVI/HDMI converters to connect with legacy monitors.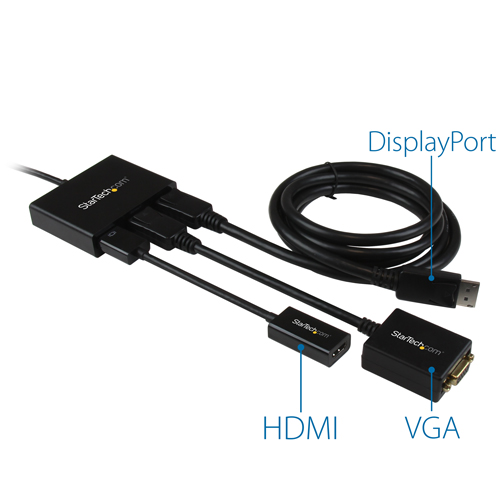 Other devices supporting MST
Newer devices will almost certainly have support for MST, including tablets such as the Microsoft Surface Pro (2 and 3) as well as the Lenovo X1 Carbon (Gen 3 or newer). Apple was slow to adopt MST in their version of DisplayPort, so check here to see which devices offer support.
Multiple monitors via USB adapters
If your device doesn't have DisplayPort yet, it is possible to use a USB 3.0 port to connect multiple monitors using an external video card adapter. In fact, DisplayPort and the USB-IF announced support for DisplayPort over USB-C (Type-C Alt Mode), meaning that a single USB-C cable will be able to carry not only data and power, but DisplayPort audio and video as well. We will have to wait for the software and hardware support for this, but it is an exciting development that will make use of multiple monitors even easier.
Next steps for multiple monitor set-up: