You've bought a brand new laptop. It's sleek, it's slim … and it only has two ports on it. Just two. So, what do you do now? How do you connect to gigabit Ethernet, multiple monitors, all your peripherals or even your phone?
Turns out, there are multiple solutions available to solve this problem, but which is best for you? Let us introduce you to the world of docking stations and multiport adapters.
With numerous options available between full size docks, mini docks and multiport adapters, the process of finding the best device to enhance your laptop's connectivity is similar to buying a new car. Just like when buying a new car, much of the deliberation boils down to the customer's ultimate needs and primary use. Let's embark on our buying journey together to find the model that's just right for you.
As a typical daily user, my assumption is that my process of buying a new car would be very similar to yours. As a first step, I begin by asking myself a few questions:
Where will I drive it?
How often will I use it?
How many passengers can it accommodate?
Similarly, when looking to enhance my laptop, I consider how and where I'll use it and what my connectivity needs are. A few questions I may ask myself are:
Do I want a full size, multiple-monitor desktop workstation?
Do I need a portable solution with the ability to create a multi-monitor workstation?
Is a quick portable solution for on the go productivity important?
When shopping for a new device, it's important to do some initial research. We understand it is very easy to get lost in a sea of tricky terms and technical specifications. We're here to help clarify some of the confusion and help get your laptop connected!
Full Size Laptop Docking Station: The Full Size SUV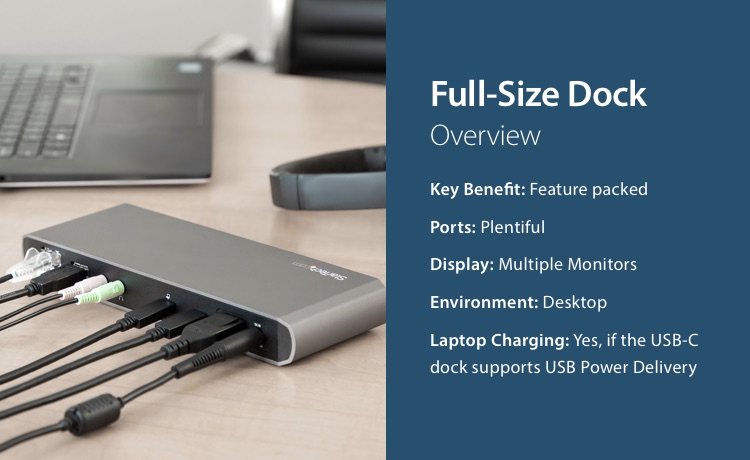 A full size laptop docking station, like a full size SUV, is feature packed, powerful and spacious but instead of providing space for extra passengers, it's making room for plenty of extra ports and connectivity options.
Perfect for your office desktop, a full size docking station connects to your laptop to help you efficiently power through your workday. Increase your productivity by plugging in and creating a full-scale multi-monitor workstation with ports available for all your peripherals and devices.
Multiport Adapter: The Compact Car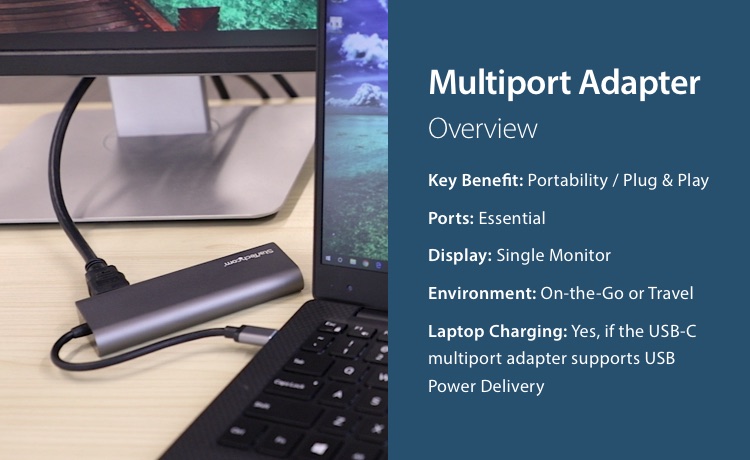 A compact car offers plenty of benefits. Its size means that you can zip around traffic easily and park in virtually any spot. While it may not have all the bells and whistles of a full size SUV, it's got just enough to fit your needs. Similarly, when it comes to connectivity, the multiport adapter is like your compact car. It's perfect for people on the go and convenient to meet your essential connectivity needs.
Multiport adapters are also ideal for helping users create a basic workstation virtually anywhere. Users can simply plug the adapter in and, depending on the model, connect to a single monitor, gigabit Ethernet and multiple peripherals, thanks to the additional USB ports it provides. Multiport adapters are compact and plug-and-play which means that no matter what or where you're trying to connect, everything you need is in a small, lightweight adapter in your bag.
Mini Docking Station: The Souped-Up Sedan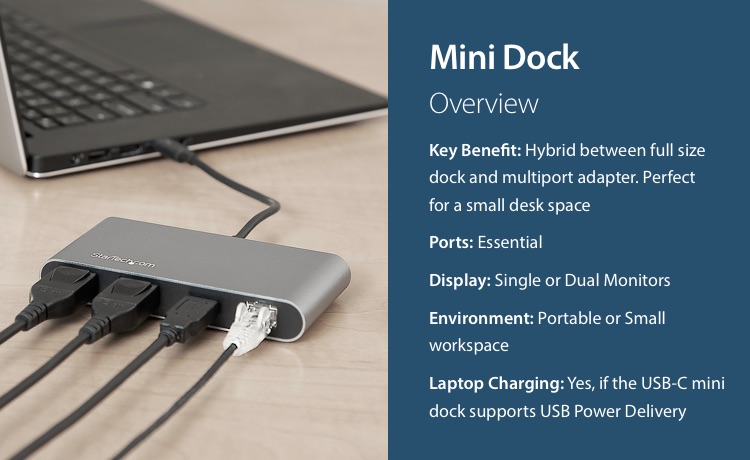 Like a souped-up sedan, the mini docking station is the perfect hybrid between the full size dock, "full size SUV," and the multiport adapter, "compact car." Its size provides the portability of a multiport adapter, while its power and features allow for a more elaborate and luxurious workstation setup a full size dock can provide.
While it may not have all the ports you can find in a full size laptop docking station, a mini docking station will provide you with essential ports, as well as the option for dual monitor displays. Create a full functioning multi-monitor workstation easily, and on the go, with the help of these small but mighty laptop docking stations.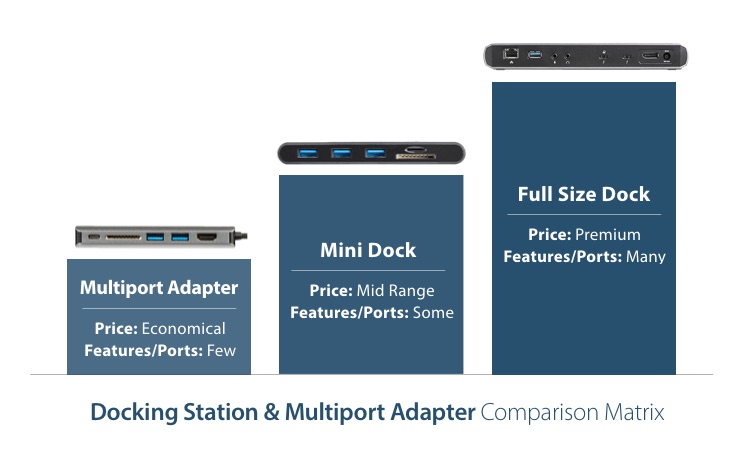 Learning how to best enhance your laptop and narrow down your connectivity options can be a difficult and confusing process. We may not be the experts when it comes to buying a new car, but when it comes to connectivity, our experienced multi-lingual Tech Advisors can put you in the driver's seat of a dock that's perfect for you. We welcome you to explore our comprehensive portfolio of multiport adapters and docking stations at Docking Stations. If you have any questions, feel free to reach out via live chat, phone or email. Tech Advisors are available 24 hours a day, Monday to Friday.
So, now that you know what the different models offer, it's time to drive productivity and get your laptop connected.
To find out more about laptop docking stations, please visit Docking Stations
StarTech.com makes it easy for IT professionals around the globe to find, get and use hard-to-find connectivity parts they need to enable their solutions. From the latest technology to legacy products – and all the parts that bridge old and new – we can help you find the parts you need.