With technology becoming an integral part of our lives, the need for future proof technology is pretty much at par with the basic necessities these days. But with regards to being future proof, does USB-C really have this potential? The answer is yes. If the rapid adoption rates were not a clear indication, the momentum behind this technology to make it all-in-one solution should be.
When USB-A debuted in 1996, adoption was minimal until 1998. It was only after the release of the improved USB 1.1 protocols that the adoption rates for USB-A began to pick up. The USB technology platform has now been around for over 20 years and is still going strong. Various other technology protocols such as FireWire, DVI, DP and HDMI have been introduced in past few years but USB with its widespread adoption has still persisted. Now, with the introduction of USB-C's smaller, flatter, reversible design with built in advanced functionality, it has become quickly apparent that the latest evolution of USB has fortitude.
USB-C was able to show its promise early when Apple launched a 12 inch MacBook with a single USB-C port. The most exciting thing about this launch was that the USB-C port transmitted power and video along with the usual peripheral support. Offering bi-directional charging capability, video over DP alt mode and peripheral support via a single port; in itself was a big leap for the laptop industry thereby pushing us one step closer to thinner, lighter and clutter free machines that we have always wanted. More recently, the technology has been seen on other devices such as mobile phones and tablets and is showing no signs of going anywhere. With USB-C offering more powerful charging for devices, it can also provide lightning fast data transfer speeds, especially when coupled with the Thunderbolt 3 interface – but wait, there's more!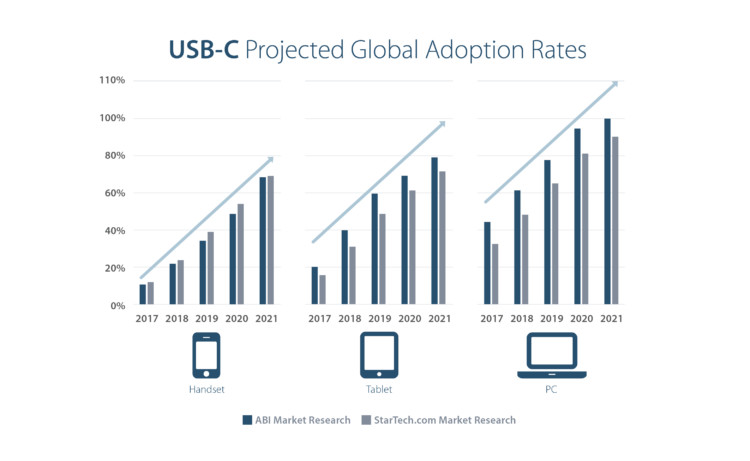 What about the all important and ever evolving video resolutions? Can USB-C keep up with the latest in video technology? Of course it can. Currently, USB-C can support dual 4K displays and is backwards compatible with older resolution standards. This versatile compatibility means when it comes to video resolution, USB-C is the complete package.
As you can see, the projected rates show a consistent increase in the adoption of USB-C across handsets, tablets and PCs with an overall 77% adoption across all three categories by 2021, it won't be long before this technology becomes the standard. It is evolving to support data transfers, bi-directional power charging, video display and even audio – with increased performance and all through one cable. This is truly the future of connectivity and a bandwagon worth jumping on.
Convinced yet? Are you ready to get ahead of the curve and embrace the future with USB-C? Well, before you put all of your eggs in USB-C's basket, there are a few things you need to consider for a smooth transition.
Check out our next article "Before You Buy: A USB-C Checklist" to ensure your seamless deployment of USB-C.
For more background information on USB-C and how its compares to Mini DisplayPort, check out the first blog post of the series, "A Tale of Two Ports".
With our comprehensive USB-C connectivity solutions portfolio, StarTech.com is your trusted partner for enabling IT connectivity. We make it easy to identify, find, get and use the connectivity products you need.