SFPs. Trying to understand the power and capabilities of these small networking devices can be confusing. Determining which transceiver and specs are best for your network is an even tougher obstacle. To eliminate some confusion, StarTech.com has created a quick list of answers to fundamental questions about SFPs to help you get your network up and running. Let's begin SFPs 101.
1. What is an SFP transceiver?
Let's start with the basics. SFP stands for "small form-factor pluggable." SFP transceivers are compact and hot-pluggable devices that act as an interface between networking equipment (switch, router, network card) and interconnecting cabling (copper or fiber).
SFP transceivers are available with varying specifications allowing users to customize their networking equipment to meet their specific needs. Since SFPs are hot-pluggable they also make it easy for users to modify or upgrade network infrastructure. Available in single mode and multi mode, SFP transceivers, depending on the type (SFP, SFP+, QSFP, QSFP+), can transmit data anywhere from as little as 500m to as far as 80km and provide transfer rates from 10 Mbps all the way to 40 Gbps.
2. What makes various SFPs different?
There are countless numbers of SFP transceivers and SFP cables on the market, so what makes them different and how do you know which is best for you?
Distance
The first differentiation users need to consider is distance. Do you need a Short Reach (SR) SFP or Long Reach (LR) SFP?
Single mode SFP transceivers can transmit anywhere from 2km all the way to 80km in distance. Standard Single mode SFPs can transmit up to 10km, while Extended Single mode SFPs, up to 80km.
For shorter distances, and a cheaper option, multi mode SFPs are a great solution. A Standard multi mode SFP can transmit up to 500m, while an Extended multi mode SFP, up to 2km.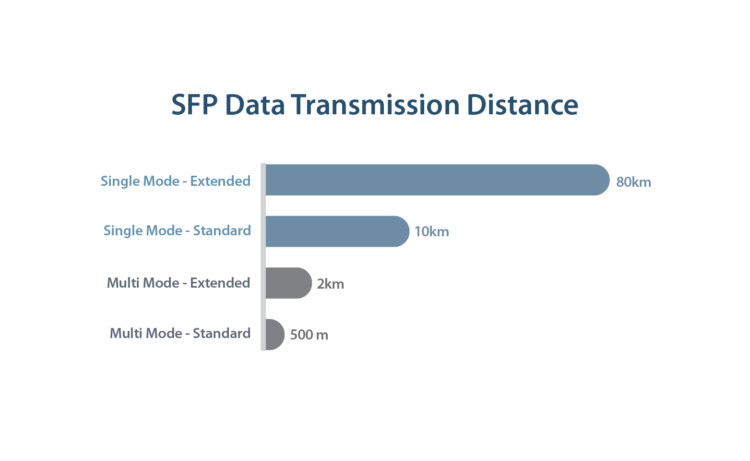 Transfer Rate
Another aspect to consider when choosing an SFP is transfer rate. What speed does your network require?
SFP data transfer rates can range between 10 Mbps to 1000 Mbps (1 Gbps). For a more powerful data transmission and faster gigabit ethernet, SFP+ transceivers can provide up to 10 Gbps rates and for optimal speeds, QSFP/QSFP+ can reach up to 40 Gbps.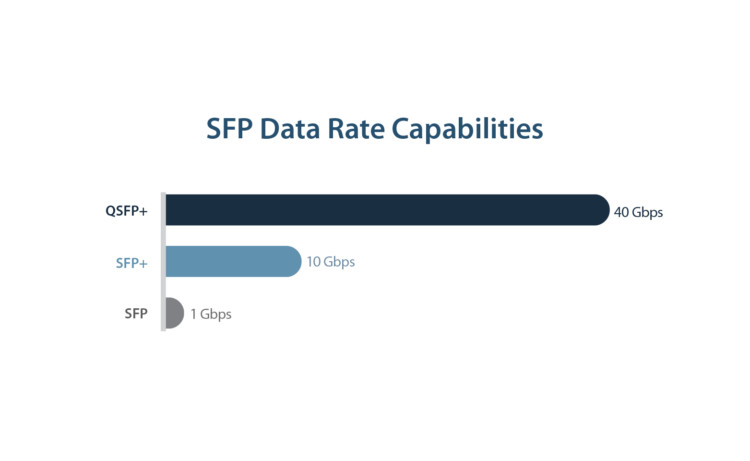 Copper vs Fiber Optic
Lastly, consider copper vs fiber optic SFPs. Which is best suited for you truly depends on your server or network setup. For short distances, due to cost advantages, many professionals are sticking with copper cable infrastructure – in this case the network infrastructure would likely include copper transceivers. However, in terms of distance, price and sustainability, Optical SFPs are a great choice as they are typically more cost-effective over long distances, more reliable than copper cabling solutions, can transmit data further and can operate at higher bandwidth relative to copper. Therefore, many forward-looking networking professionals are looking at fiber solutions in their server setups to better adapt to and manage the continuously evolving technology.
3. What is an SFP cable/Direct Attach Cable (DAC)?
Direct attach cables are Twinax cables with transceiver connections on both ends. Used for connections between networking equipment in a server room, DACs are meant for connecting across very short distances. A popular alternative to an SFP transceiver, they are convenient because they offer a complete solution as opposed to having separate components (a transceiver and cable). DACs also offer a lower price, less maintenance, lower power consumption and are plug and play. They provide similar transfer rates to SFP transceivers and are available in SFP, SFP+ and QSFP+.
4. What about Third-Party SFP Compatibility?
When it comes to purchasing an SFP, compatibility with your network switch is critical. Many customers are under the impression this means that you have to buy the OEM SFPs to ensure compatibility. While this is always an option, OEM SFPs often carry high price tags and provide less variety. This is where third-party SFPs fill the gap to provide multiple compatible options at considerably lower price points. Many third-party SFP manufacturers not only guarantee compatibility with OEM switches but also meet or exceed OEM transceivers in performance, reliability and warranty.
5. What are MSA standards?
Third-party manufacturers are able to assure compatibility with OEM equipment with the help of Multi-Source Agreement (MSA) standards. MSA standards help to create an open market for SFP transceiver modules. They ensure competing manufacturers are able to build SFPs that are compatible across multiple brands. All elements of SFPs, mechanical and electrical, are specified by a Multi-Source Agreement. With MSA standards, customers can feel confident that SFP modules sold by third-party vendors are manufactured to the same standards and are identical in form factor and functionality to top OEM brands.
6. What are Vendor Lock-in Practices?
Certain large industry manufacturers participate in "vendor lock-in" practices, which intentionally prevent third-party SFP transceivers from working in their devices. Through settings in firmware, hardware and/or EEPROM, certain OEM switches detect when a third-party transceiver is installed and block it from working with the device. Thankfully, to the benefit of the customer, many third-party SFPs are equipped with the latest innovations and have been able to maintain compatibility, regardless of vendor lock-in practices, to provide customers with more options.
Anti-competitive laws are also in place to prohibit OEM manufacturers from voiding equipment warranties due to the use of third party transceivers. Customers can confidently purchase the SFP that is right for their system and budget without being concerned with warranty or compatibility issues.
The world of networking and SFPs can be confusing and overwhelming – but it doesn't have to be. Depending on the needs of your team or business, connectivity and networking choices will vary. The good news is that there are plenty of options available to customers depending on budget, distance and speed requirements.
Third-party alternatives are becoming more common and provide a reliable and cost saving alternative to pricier OEM transceivers. If you do decide to use third-party SFPs, make sure they check off the following:
Meet or exceed MSA standards
Are compatible with OEM equipment
Provide a reliable warranty
Are purchased from a trusted manufacturer
StarTech.com SFPs are engineered to deliver what you need most in your networking connections: reliable performance. For networking support and troubleshooting contact our 24-hour multi-lingual support team, Monday-Friday. For more information on our SFP product offering and why people are switching to StarTech.com SFPs, visit www.startech.com/sfps