Regular road warriors are all too familiar with the struggles of business travel. The world does not pause while you're in the air and offline. So, it's increasingly important to maximize the time you have to get stuff done while on the road – wherever that may be (airport, hotel lobby, client's hotel desks, etc…). Below, we address some of the most common challenges faced by professional road warriors.
Challenge #1: Day-to-Day Productivity
Running from customer to customer is undoubtedly more challenging than working at a full workstation back at the office. What's the solution to being able to finish reports, send emails and add finishing touches to that presentation seamlessly from your hotel room? Multiport adapters. These handy little adapters give you the essential ports of a docking station, but are portable and fit right into your travel bag. There are tons of different port versions, but they all aim to set up a functional workstation while you're on the go.
Most multiport adapters offer ports for a display (HDMI or VGA should cover most projector systems), Gigabit Ethernet for wired connections (the most reliable) and an additional USB port (for a mouse and keyboard). A solid choice is the DKT30CHV USB-C multiport adapter, because it gives business travelers an additional video output (HDMI or VGA) for adding an external display, as well as a USB port and Gigabit Ethernet port, all from the USB-C port on their laptop.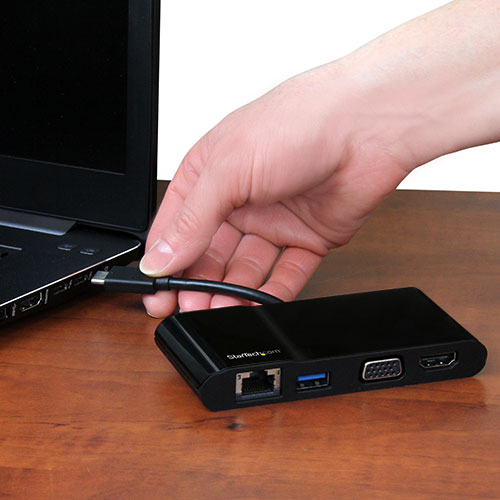 Challenge #2: Seamless and Stress-Free Presentations
You spend weeks preparing for a business trip, finalizing the presentation slides and going over your talking points. On the day you're scheduled to present to your client, you can't get your laptop to connect to their projector system. 15 minutes of unplugging, switching inputs, and replugging make your start time 15 minutes late forcing you to rush through the presentation. This is a worst-case scenario, but for many people, it's happened at least once. Technology should work for you, not the other way around. A must-have accessory for road warriors is a display adapter flexible enough to cover you regardless of the display technology in any given meeting room. Two popular choices are the CDPVGDVHDB USB-C Travel A/V Adapter and the MDPVGDVHD4K Mini DisplayPort Travel A/V Adapter, but there are lots of variations to choose from.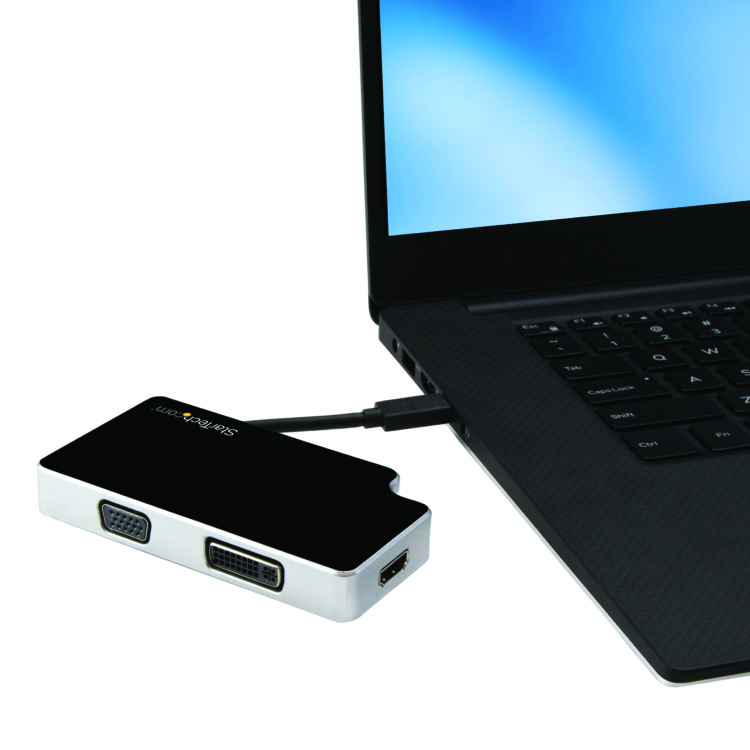 Challenge #3: WiFi
Access to WiFi is the life blood of business travelers. Nobody looks forward to explaining the mobile phone bill where you downloaded that budget file using data. Moreover, business users are likely to opt to carry lightweight laptops that often don't have an ethernet port – making WiFi that much more valuable. We recommend using a wired connection and create a hot-spot with this portable Wi-Fi router.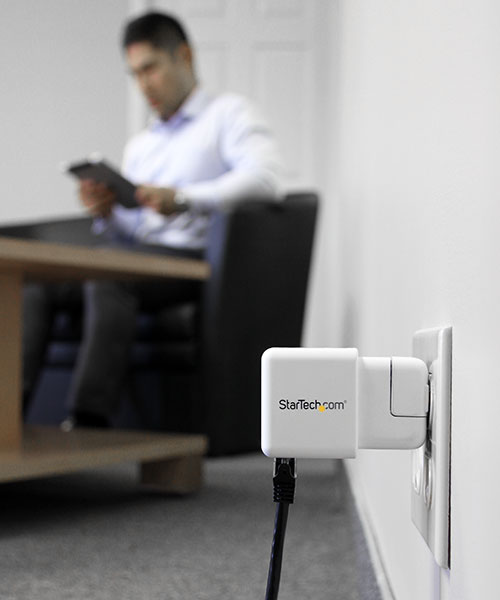 Always be Prepared
For good measure, we recommend that your tech accessories ensure you're prepared for any situation:
Traveling to a different country or continent? Take this Dual-Port USB Wall Charger and never have to scramble to pick up the right wall charger in the airport again
Apple and Android user? Keep this Multi-Charger Cable with you on the road and charge or connect all of your devices
Driving instead of flying? Use a Dual-USB Car Charger to keep your phone(s) and tablet charged and ready for your next meeting
Traveling for business is hard. We make it easy. These solutions will help avoid the stress of staying connected while on the road. Bon Voyage!