The recent announcement that Thunderbolt™ 3 would be exclusively delivered via a USB-C connector is an exciting development in the USB Type-C discussion. Historically, Thunderbolt has primarily been associated with Apple products, save for a few high-end PCs. The release of Thunderbolt 3 brings the power of Thunderbolt to the masses. This is certainly a sea change for Thunderbolt and has the potential to impact the entire industry.
Thunderbolt's PC Potential
When Thunderbolt was first introduced, with its PCI Express and DisplayPort power support, much was made of its high bandwidth and potential to overtake USB as the dominant standard for connecting peripherals. The industry, as is often the case, had other plans. A vast majority of device manufacturers (and in turn, consumers) had already doubled down on the more familiar USB alternative. There are currently in excess of 20 billion USB devices worldwide. In the world of PCs, Thunderbolt's adoption was typically limited to higher-end PC models for unique applications.
The makers of Thunderbolt – Intel – created the best single cable user experience by combining all the standards that came before (PCIe, DisplayPort, HDMI, VGA and USB 3.1) to create the cable that does it all. Ultimately, this makes USB-C and Thunderbolt 3 an industry power couple, with the potential to provide more speed, pixels, power and protocols to a wide selection of device makes and models.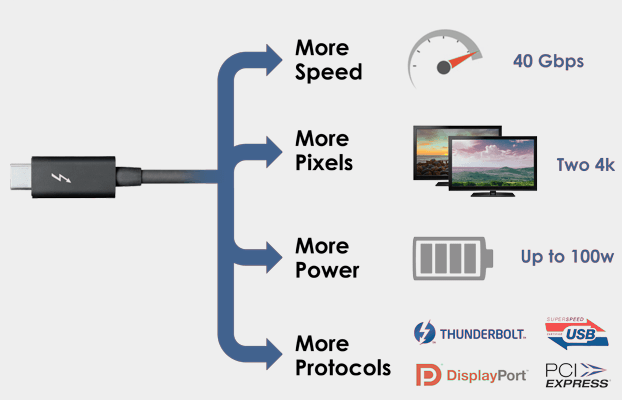 Look to the Thunder….Bolt
If you're in the market for a new PC, you'll want to look for one with Thunderbolt 3 in the specs. A laptop equipped with Thunderbolt 3 will give you the highest level of compatibility with other devices.
The challenge is for laptop owners who aren't looking to upgrade immediately. If your current machine is not equipped with Thunderbolt 3 you will only be able to connect to Thunderbolt 3 peripherals with appropriate cables, adapters, or docks. This includes, for example, connecting to an external monitor, accessing an external drive, or connecting to a docking station.
Further Reading
Stay tuned for our next blog posts about Thunderbolt 3, where we will discuss which manufacturers have announced products that support USB-C and Thunderbolt 3, such as the Dell XPS, Google Chromebook Pixel and ASUS EeeBook.
Still confused? Read our full overview of USB-C and Thunderbolt 3