Your displays come in all shapes and sizes, from 24-inch monitors, to 100-inch TVs and 11-inch tablets. The mounts made to support them are no different. There are several mount configurations and designs available and they can range from a hanging monitor mount for a tight cubicle, to a large TV mount bracket capable of supporting your 100-inch display. When considering which mounting solution is best for you, it's important to not only understand your display, but also your environment's needs
Whether it's to save space or create a more comfortable workstation, monitor mounts can turn any basic workstation into a productivity powerhouse. However, finding the right mount for your specific needs can be overwhelming. Let's look at some basic criteria to consider when choosing your monitor mounts.
1) Mounting Type
There are several types of monitor mounts available with various mounting options. To choose the right type of mount for you, it's important to ensure it's compatible with the environment you're installing it in. Consider the following:
Grommet mount: make sure that your desk has a grommet hole.
Desk-clamp: make sure that your desk width is compatible with the clamp size.
Cubicle hanging mount: ensure the mount will fit the width of your cubicle wall.
Some manufacturers include the necessary components to provide flexibility and allow users to install the mount in different environments, for example a single mount can be available as a desk-clamp or grommet mount solution. This is perfect for mass deployments where mounting options need to vary depending on the desk or to suit the particular needs of an employee.
2) Space
How much space is available? It's a simple question but one that needs significant consideration. While everyone has dreams of creating their ultimate quad-monitor workstation, very few desks have the space for such an elaborate configuration. With the help of monitor mounts, however, users can create their perfect space saving workstation.
Replacing typical monitor stands with dual, triple or even quad monitor mounts can help clear up priceless desk real-estate, leading to an increase in organization and workplace productivity. Some possible space saving solutions include:
Compact single monitor mounts that require minimal space on the desktop
Cubicle hanging monitor mounts that eliminate the need for allocating extra desk space for a monitor
Multi monitor mounts which offer users a single and compact desktop footprint (especially when using a gromet or clamp mount) while providing multiple screens for increased productivity and efficiency.
If your workstation has the space to host multiple monitors, but you're questioning whether to make the transition, here are some quick facts about how various mounts can benefit your workspace:

3) Adjustability
An important aspect to consider before choosing your mount is the amount of adjustment you desire. How important is it for you to be able to tilt, rotate, swivel or adjust the height of your monitor?
For comfort and creating the optimal viewing angle, being able to easily adjust the position of your monitors can be crucial. Tilting your monitor for a better viewing angle or swiveling it to the side when you want to change your seating position can be critical to your overall productivity level.
Below are some tips on how to find your optimal viewing position.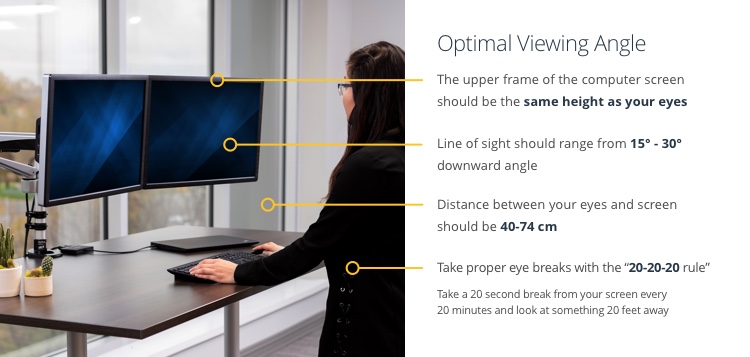 Source: Canadian Centre for Occupational Health and Safety (CCOHS)
Ease of adjustment is also important. Being able to adjust the height of your monitor is only part of the solution. If this adjustment is tedious, time consuming and requires disassembly, then it might not be worth the effort. For these reasons, we suggest opting for one touch adjustment mounts.
4) Ease of Installation
Once you've chosen your mount, it's time to install it. Installing a monitor mount should be a stress-free process and only require one person. With organized packaging from the manufacturer, assembling and installing a monitor mount should take a relatively short amount of time, helping to make large office-wide installations much easier.
Understanding the environment and space requirements of your mount, as well as VESA compatibility, will collectively lead to a quick and pain-free installation.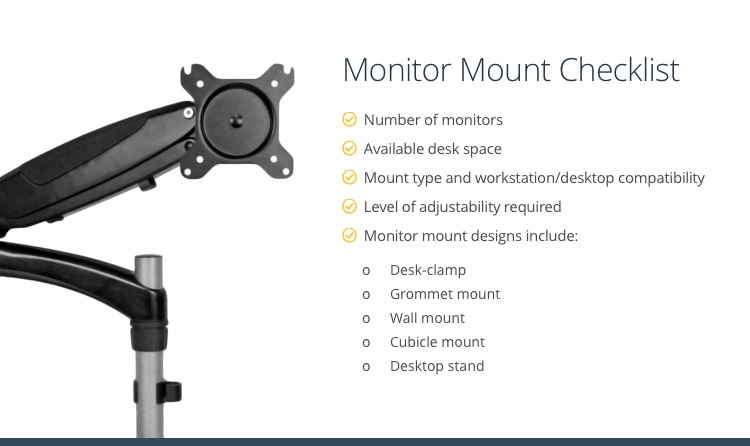 Mounting a flat screen TV in a boardroom can not only help save space in the room, but also provide optimal viewing for the entire audience, no matter where they may be sitting. When considering digital signage and/or TV mounts, whether placed in customer facing retail environments or in the hallways of your business centre, the right mount can help create visual displays that entice viewers and help tell your story.
Make sure to consider the following when selecting your TV mount bracket:
1) Adjustability
Adjustability plays a key role when configuring displays in an area where it's important for all audience members to comfortably view the screen. Depending on the design, some TV mounting brackets offer more adjustability features than others. Adjustability options for TV mounts include:
Fixed: A fixed TV mount can provide users with a low-profile solution that sits tight to the wall. This often means, however, that a fixed TV mounting bracket, unlike other mount types, may not provide users with the extra space they need to hide cables or a digital signage player behind the TV.
Tilting: A tilting mount can offer users the ability to tilt the TV for the best viewing angle, or to avoid glare from harsh lighting.
Full-Motion Articulation: A full-motion articulation mount allows users to not only tilt the TV up and down, but also extend it out from the wall and swivel it from side to side. It provides a full range of motion to create a comfortable solution for multiple viewing scenarios and allows for easy access to cables and other equipment behind the display.
2) Space
There are several TV mount designs available on the market. Whether it's a TV cart, wall or ceiling mount, before deciding which option is best for you, it's important to consider the amount and type of space required for not only the TV, but also the mount.
For wall mounts, consider the size of the TV and amount of available wall space in the room. If your boardroom has no available wall space, or the walls aren't capable of supporting a wall mounted flat screen TV (i.e. an all glass boardroom), then a possible solution may be a ceiling mount or TV cart.
Ceiling mounts for a TV can offer a great alternate solution to the traditional wall mount. They save floor space and are available in fixed, tilting and full motion with some designs offering the ability to rotate 180 degrees.
A TV cart can be useful if the room doesn't have the infrastructure to support a wall or ceiling mount, or if the display needs to be mobile. TV carts can provide a cost-effective solution for users who require a display in multiple rooms, but don't have the budget or mandate to make them permanent fixtures.
After reviewing the size of the TV and available space in the room, the weight of the TV needs to be considered. All mounts have weight restrictions, so before making a purchase it's important to ensure that the mount and mounting infrastructure (wall, ceiling, TV cart) can support the weight of the TV.
3) Ease of Installation
No one enjoys a long and tedious installation process. Mounting a TV should be quick and simple, especially for a mass deployment requiring multiple units. To streamline the process and avoid major pitfalls, it's important to be aware of installation requirements. Whether you require certain wall anchors, a particular length of screw or a drill, preparing the necessary installation tools beforehand can help save time and frustrations.
The mount you choose should include the necessary materials and screws to attach the TV. Your TV model and VESA configuration will determine the length of screws you'll need to attach the mount. When it's time to mount your TV make sure to remember some of the tips below:
Stay organized: When unpacking your mount, make sure that all mount contents and pieces are kept sorted. Often, manufacturers, will package the same screw lengths and similar assembly pieces together to keep installation simple and organized.
Make sure to use a level: When you hang a picture on a wall and it's crooked, you can simply readjust the position with minor adjustments and it's fixed. But with a wall mount, it's not that easy. Removing screws and re-drilling holes can be extremely time consuming, frustrating and destroy the appearance of the wall. A level, which comes built-in to some TV mounts, can help eliminate these common installation errors.
VESA compatibility: VESA (Video Electronics Standards Association) mounting standards define the mounting hole patterns on the back of flat screen displays. These standards were developed to simplify various mounting applications. There are several variations to the standard and the one that applies to you depends on the size and the spacing of the mounting holes on the back of your display. While not all displays or mounts are required to follow these standards, most do, which helps simplify the mounting process for the customer.
Number of people required for installation: Another critical aspect to consider is the number of people required to install the mount. Some mount manuals will advise on the suggested number of people for installation, with most installments only requiring one or two people. Simple installations can make mass deployments much less time consuming and much more affordable.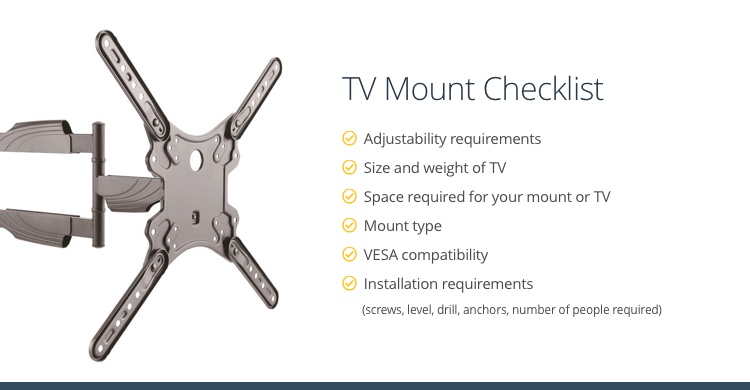 Whether being used in a boardroom, as an additional screen at your desk or as a point of sale device, tablets offer the perfect, compact and mobile computing solution. Having a mount or stand to accompany your tablet can help to increase comfort when in use and provide security when the tablet is left unattended. Whatever your needs might be, it's important to consider these three attributes before choosing your tablet mount.
1) Size of Tablet
Not all tablets are the same, which means that when you're choosing your tablet mount, it's important that you know the make, model and proper size of your tablet. Some tablet mounts will only be compatible with certain tablet models or brands. When trying to determine the size of your tablet, the correct way is to measure the screen diagonally, from corner to corner. While searching for a tablet mount, ensure that it is compatible with your tablet and fits exactly, or either expands or compresses to fit properly.

2) Security
Tablets are a great addition to any information kiosk for data capturing and information sharing purposes. They're also a great compact computing solution for the boardroom. In both scenarios, there is a possibility that tablets will be left unattended multiple times throughout the day. Hence, a secure and lockable tablet mount becomes critical especially if your tablet is regularly left unattended. Whether it's a tablet stand secured to the floor, or a lockable tablet mount with a key, there are plenty of solutions available that help to protect and secure the delicate and expensive devices.
3) Adjustability
Depending on the purpose of the tablet, being able to easily adjust its position can be important. For instance, at an information kiosk, where customers can walk up and access the tablet, a fixed and lockable tablet stand may be an effective solution. In comparison, when using a tablet at your desk, adjusting the viewing angle is crucial for creating a comfortable workspace. Having the ability to either pull the tablet closer to you, adjust its height or tilt it for better viewing can make or break the process of comfortably integrating tablets into your workspace.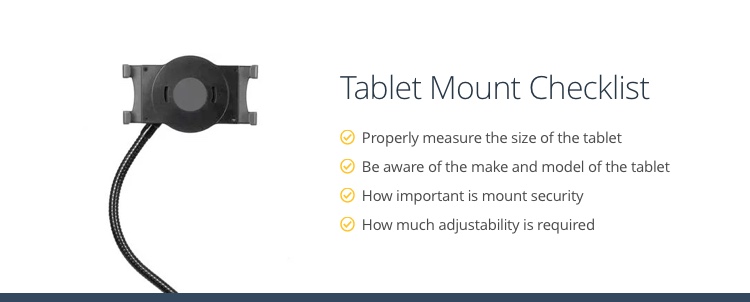 When it comes to mounts, one size doesn't fit all.
When it's time for you to purchase your display mount, consider the tips and tricks in the above buying guides. There are several mount designs on the market providing users with plenty of choices, but unfortunately this can also make the decision process overwhelming. Going into the shopping experience prepared can ensure a simple buying process and guarantee you choose the perfect mount for your specific needs.
For mounting solutions for all your displays, check out StarTech.com's extensive range of Display Mounts, offering options for workplace monitors, TVs and tablets.
For more information visit Display Mounts