Thunderbolt 3 brings Thunderbolt to USB-C at speeds of up to 40Gbps, creating one compact port that does it all – delivering the fastest and most versatile connection to any dock, display or data device. With dozens of Thunderbolt 3 laptops, devices and cables now in the market, we have compiled a list of Frequently Asked Questions (FAQs) as it relates to Thunderbolt 3 connectivity and compatibility.
Let's get started with a quick run down of the tech specs:
Thunderbolt 3 supports – Thunderbolt, USB, DisplayPort and Power Delivery on the USB-C connector
The Thunderbolt 3 port and cables are small and reversible
Up to 40Gbps Thunderbolt 3 data transfer speeds – double the speed of Thunderbolt 2;

Bi-directional, dual protocol (PCI Express and DisplayPort)
Four lanes of PCIe Gen 3, allowing for video cards to be connected externally to laptops for additional processing power
Eight lanes of DisplayPort 1.2 (HBR2 and MST) – supporting two 4K displays at 60Hz or a single 5K display at 60Hz

USB 3.1 Gen2 data support (10 Gbps) – compatible with existing USB devices and cables
DisplayPort 1.2 – compatible with existing DisplayPort displays, devices and cables. Users can connect DVI, HDMI and VGA displays via adapters
Thunderbolt Networking – built-in 10GbE full duplex (flowing in both directions at the same time) connection between computers
Daisy chaining up to six devices to a single Thunderbolt 3 port
Bi-directional power delivery of up to 100W system charging, where supported. Without USB Power Delivery, Thunderbolt 3 will provide up to 15W to bus-powered devices. This trickle charge can maintain host charge
Lowest latency for PCI Express audio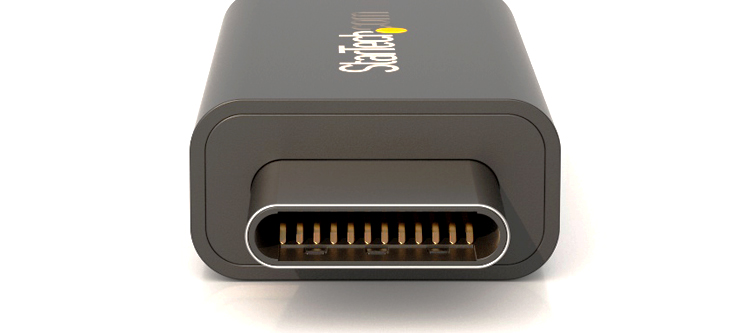 Will Thunderbolt 3 continue to use the Mini DisplayPort connector?
The performance of Thunderbolt 3 will be delivered exclusively by the USB-C connector and not the Mini DisplayPort connector like the previous versions of Thunderbolt. Learn more about USB-C features here.
Is Thunderbolt 3 backwards compatible with Thunderbolt and Thunderbolt 2?
Thunderbolt 3 is backward compatible. Solutions and products built to Thunderbolt and Thunderbolt 2 specifications will require the Thunderbolt 3 to Thunderbolt Adapter.
Is there a maximum cable length for Thunderbolt 3 technology?
Thunderbolt 3 passive cables have maximum lengths. We currently have the following passive Thunderbolt 3 copper cables:
The maximum length of the cable refers to the maximum length at which the cables perform optimal speeds while also delivering other enabled features (power or video data). In the future we will offer active cables which will provide 40Gbps of bandwidth at longer lengths.
What is the difference between active and passive Thunderbolt 3 cables?
Active Thunderbolt 3 cables support Thunderbolt at 40Gbps data transfer at lengths of up to 2m. Optical cables are targeted later, with lengths of up to 60m. Passive lower cost cables are only capable of 20Gbps data transfer at 1m or 2m lengths, but can achieve the full 40Gbps at a shorter cable length of 0.5m.
My laptop has a USB-C port, does that mean it also supports Thunderbolt 3?
Thunderbolt 3 is marked with a Thunderbolt icon (see below) which means the host or the device has passed the rigorous certification process set by Intel. Thunderbolt 3 supports the highest specification i.e. USB 3.1 Gen 2, DisplayPort 1.2, PCI Express 3.0 and Power Delivery up to 100W.

How many displays can I run at a time over a single Thunderbolt 3 connection?
A single connection can either support one 4K display (4096 x 2160) 30-bit @ 120 Hz, one 5K display (5120 x 2880) 30-bit @ 60 Hz with up to a bandwidth of 18Gbps of data downstream and 22Gbps upstream, or two 4K displays each (4096 x 2160) 30-bit @ 60 Hz with up to a bandwidth of 8Gbps of data downstream and 22Gbps upstream.
Further Reading
Now that you know and understand the basics of Thunderbolt 3, register here to be the first to learn about new Thunderbolt 3 developments. Stay tuned for more Thunderbolt 3 & USB-C posts on The Port!