Picture this: five or six colleagues are in a meeting room, crowded around a tablet or smartphone to watch an important video, everyone struggling to get a clear view of the screen. Or someone in your organization travelling halfway round the world for a presentation, only to discover that their Ultrabook can't connect to the client's LCD projector.
If either of these scenarios sound familiar, you may already be searching for a better boardroom connectivity solution – one that includes mobile devices and makes projection and sharing easy.
Two steps forward…
The good news is that there is a standard called Miracast™, which is essentially like HDMI over Wi-Fi, as it creates a wireless connection between a PC, Tablet, or Smartphone and any large display device. Miracast connects the two devices directly, and won't utilize or interfere with your existing wireless hotspot.
The "Wi-Fi Direct" standard, or "Wi-Di", is now Miracast compatible, meaning that any recent Windows-based computer, tablet, laptop or smartphone running Android 4.2 will be Miracast compatible (see the list of all compatible devices).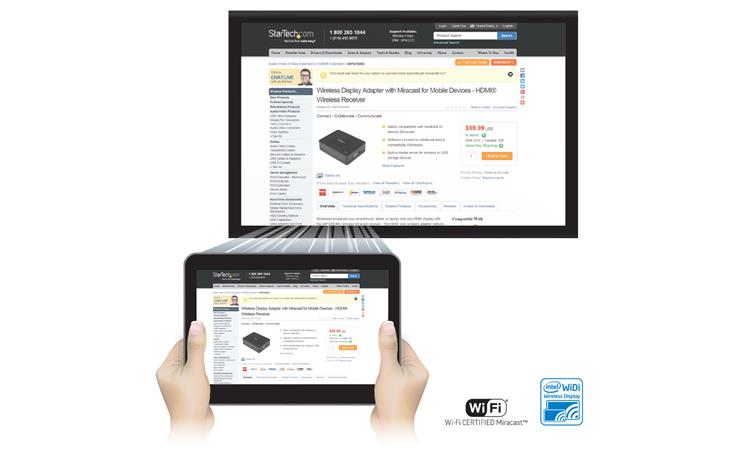 To ensure your large boardroom display can receive the video, you need a Miracast receiver. Your tablet or mobile phone handles the video encoding, and then sends it directly to the display, without a wireless access point. The Miracast receiver decodes the video signal and passes it to the display device. One of the benefits of Miracast is that it allows you to multitask on the source laptop, so you can stream the video to the display and flip over to answer an email or a text without it appearing on the screen for all to see.
Multitasking on the source has not been true for Android devices. However, now there is a sample app from Intel developers that will let you run a social networking app on the big (extended) screen while running another app on your Android tablet. It's called Intel Social Cast (sample app) and it lets you launch your favorite social media app from your Android device and share it on your TV. Then with Facebook on the big screen, you can run a different app on the Android device while still being able to perform other interactions on the big screen. See a demonstration of the technology.
…One step back
The catch, of course, is that this doesn't include Apple devices. While it will require an input switch on the display, the simple solution here is to buy a $100 Apple TV. Any iOS powered tablet, smartphone or laptop will now be able to connect using Apple's proprietary AirPlay technology, to mirror their source screen onto the boardroom display.
The major drawback of AirPlay is that, unlike Miracast, it mirrors the entire screen, meaning that you may want to turn off iMessage before you start streaming to the entire team.
Still ahead
Mobile BYOD is here, and with it, we need wireless videos solutions that will ensure fast, easy collaboration.
Next steps: