Receptor para Señalización Digital de VGA, RS232 y Audio por Cat5 para uso en DS128
Extienda y gestione vídeo VGA, audio y señales de control RS232 a monitores múltiples
Características
Receiver supports VGA, audio, and RS-232 serial signals when used with DS Series DS128 8 Port Transmitter

DSNet Manager JAVA based software puts you in control. Software allows access to each receiver to configure system, image quality, power on/off receivers, and turn video or audio off.

Supports resolutions up to 1600x1200 at 100m / 300ft distance. Ability to go up to a total maximum 300m / 900ft when daisy chaining a maximum of five DSRXL receivers.

Easily scalable system allows up to 80 displays to be connected using the DS Series eight port transmitter and DSRXL receivers.
Los precios pueden variar en relación a los de nuestros revendedores:
ID: DSRXL
Disponible en stock:

Europa: 37
StarTech.com's DS Series Digital Signage Broadcaster VGA Cat5 Receiver offers a comprehensive audio and video extension system, with the added benefit of serial control!
The DSRXL VGA Receiver(s) can be installed at the destination points, allowing you to distribute VGA video as well as the accompanying audio and serial control signals from the connected Serial, Audio and VGA Cat5 Digital Signage Broadcaster (DS128 - purchased separately), all over one Cat5 cable.
Ensuring not only a simple and cost-effective way to extend and control VGA video and the corresponding audio, the DS series (DS128 and DSRXL) also maintains exceptional, high quality video, up to 1600x1200 over a 100m connection. For further extension, you can daisy chain up to five receivers, for a maximum distance of 300m.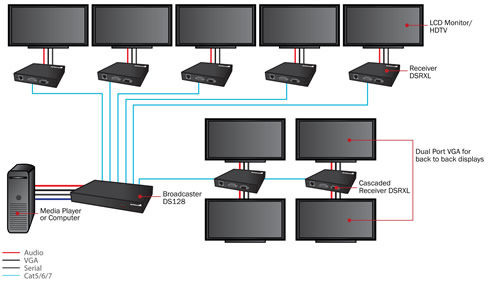 La ventaja de StarTech.com
One system, one Cat5 cable to deliver and control your video, audio, and serial signals to each display.
High resolution support of 1600x1200 ensures high quality signal delivery for high definition content.
Included DSNet Manager software saves time allowing to tweak each receiver and display anywhere on a local area network or a wireless local area network.
Future additions are easy with the ability to split each receiver to two displays or daisy chain up to five receivers.
Aplicaciones
Use digital signage to catch the attention of your audience and deliver up to date content the way you want it to be seen and heard.
The DS Series can be used in education, health care, retail, hospitality, and other environments.
Broadcast up to 80 displays when daisy chaining receivers. Deliver a VGA, audio and serial signal to each display along with the DSRXL receivers. With RS-232 controls you can control displays from the PC or media player.
Números de Producto
| | |
| --- | --- |
| Ingram Micro Belgium | 1612507 |
| Ingram Micro Netherlands | 1612507 |
| Ingram DK | V931077 |
| Ingram IE | V931077 |
| Ingram Finland | V931077 |
| Ingram Micro Sweden | V931077 |
| UPC Code | 065030837484 |
Garantía
Garantía
2 Years
Hardware
Cableado
UTP Cat 5
Cantidad de Puertos
1
Estándares Industriales
DDC/EDID Emulation for port 1 monitor
Montaje en Rack
Sí
Sistema En Cascada
Sí
Soporte de Audio
Sí
Rendimiento
Distancia Máxima
300 m / 950 ft
Especificaciones de Audio
Two channel stereo audio supported
Longitud Máxima del Cable
10 m [32.8 ft]
Pantalla Plana Soportada
Sí
Resolución Analógica Máxima
1600x1200
Resoluciones Admitidas
1600x1200 @ 100m(330ft)
1280x1024 @ 300m(950ft)
Conector(es)
Conectores de Unidad Remota
2 - DB-9 (9 pines, D-Sub) Macho
2 - Enchufe mini-jack de 3,5mm (3 posiciones) Hembra
2 - RJ-45 Hembra
2 - VGA (15 pines, D-Sub de alta densidad) Hembra
Observaciones / Requisitos
Nota
Up to 5 receiver units can be daisy-chained from the broadcaster unit extending to a maximum distance of 300m
Requisitos de Energía
Adaptador de Corriente Incluido
Adaptador de alimentación de CA incluido
Alimentación de Salida
2A
Consumo de Energía
10
Polaridad Central
Positivo
Tensión de Salida
5 DC
Requisitos Ambientales
Humedad
0~90% RH
Temperatura de Almacenamiento
-20°C to 60°C (-4°F to 140°F)
Temperatura Operativa
0°C to 40°C (32°F to 104°F)
Características Físicas
Altura del Producto
26 mm [1 in]
Ancho del Producto
132 mm [5.2 in]
Color
Negro
Longitud del Producto
135 mm [5.3 in]
Peso del Producto
526 g [18.6 oz]
Tipo de Gabinete
Acero
Información de la Caja
Peso (de la Caja) del Envío
1.1 kg [2.3 lb]
Contenido de la Caja
Incluido en la Caja
1 - Digital Signage Receiver
2 - Mounting Brackets w/ Screws
1 - Universal Power Adapter (NA/UK/EU/AUS)
1 - Instruction Manual
Certificaciones


Ver Certificado

Controladores & Descargas
* La apariencia y las especificaciones del producto están sujetas a cambios sin previo aviso.