DisplayPort

StarTech University offers computer enthusiasts and IT professionals a chance to learn more about new technologies and innovations in the IT world. Take some time to review the material, then pass the exam to earn your printable certificate for each course.
Course 5: DisplayPort
Chapter 4: DisplayPort Benefits
4.1 DisplayPort vs HDMI?
DisplayPort is not meant to replace HDMI, rather, it is meant to complement it. While HDMI is well suited for TV and home theater applications, it lacks the performance required for high-end PC displays — a fault generated from its primary focus on electronic box-to-box connectivity and its limitations in terms of performance scalability.
Since DisplayPort can be used as an internal connection, devices that are designed with the DisplayPort interface will have a smaller gap to cross when adding external ports which will presumably make the appearance of external ports on multitudes of devices more likely.
Additionally, DisplayPort features unique Direct Drive technology, which has been described as the most efficient means possible for delivering flat panel display technology to end users, with all processing work done at the signal source, not the destination (as is the case with earlier technologies such as VGA, DVI, etc.). This means that displays will no longer have to decipher signals, making much of the current circuitry found in monitors unnecessary and yielding slimmer designs than ever before. The extent to which a monitor could be slimmed has the potential to be as dramatic as the depth differences between tube televisions and flat panel televisions — only a small fraction of the space previously required.
The license and royalty-free nature of DisplayPort relieves manufacturers of some cost. Whereas HDMI technology requires large manufacturers to pay a royalty toll of four cents per unit and an annual flat fee of $10,000 per year, DisplayPort is royalty and license-free. This is beneficial to manufacturers and end users alike, as these costs are no longer trickled down to consumers.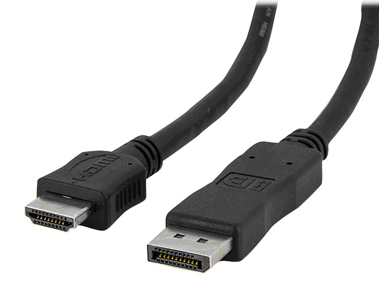 DisplayPort to HDMI video converter cable
(HDMI left, DisplayPort right)
4.2 DisplayPort vs DVI & VGA
DisplayPort is set to replace both VGA and DVI. The DVI 1.0 specification is essentially "dated" technology; its standard is no longer being updated and its standard committee has been disbanded. DVI technology is limited in that it cannot be easily updated to support higher clock speeds, color depths, connector types, or new features. For example, a single link DVI connection (18pin) offers a maximum resolution of 2.75 megapixels at 60 Hz. When a second link is activated, 4 megapixel resolutions are possible at 60 Hz, but at the cost of an additional 6 pins. With modern technology requiring more devices to be "stuffed" into smaller packages, manufacturers cannot spare the additional space needed for inefficient cabling. Additionally, DVI's 3.3V power requirement will prevent its implementation into the kinds of low voltage silicon applications that will be found in the future.
Likewise, VGA has become outdated technology because of its limited ability to scale to support higher resolutions or color depths and does not protect consumer's high definition content.
Both formats add complexity to flat panel monitors that result in additional monitor circuitry and cost. DVI and VGA signals must be internally translated to LVDS, whereas, DisplayPort has the benefit of supporting Direct Drive technology.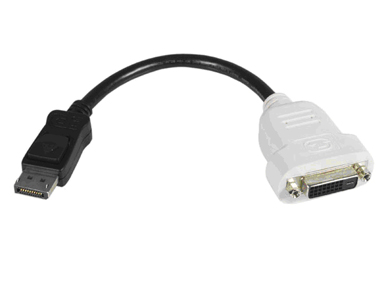 DisplayPort to DVI Video Converter
(DisplayPort left, DVI right)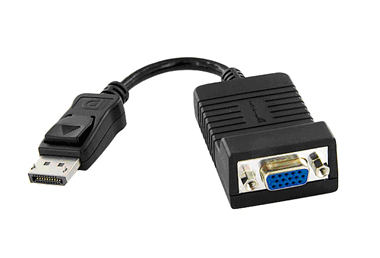 DisplayPort to VGA Video Adapter
(DisplayPort left, VGA right)
Next — Chapter 5: The Future of DisplayPort, DisplayPort 1.2