×
Are you in the United States?
Visit our U.S.A. & International site for relevant pricing, distribution and product availability information.
Go to StarTech.com
StarTech.com
Sit-Stand Desk Converter - With 35" Work Surface
Work in comfort and enhance productivity, by turning your desk into a spacious sit-stand workspace
Convert your desk or table into a comfortable sit-stand workstation
Adjust the height with one smooth motion, with a height adjustment range of 15.7" (399 mm)
Comes fully assembled - no set-up required
View More
Supports one monitor (up to 30") or two monitors (up to 24")
Wide work surface (35.4" x 20.9") holds 2x 24" monitors
Straight up and down movement, provides a stable workstation with a small footprint
Large keyboard tray (26.8" x 10.4")
Adjustable tension with counterbalance feature
Minimum footprint: 35.4" (900 mm) x 24.5" (622 mm)
Weight capacity of work surface: 28.1 lb. (12.7 kg)
Weight capacity of keyboard tray: 5 lb. (2.3 kg)
Integrated cable management
Same Day Shipping
on in-stock items from the UK if ordered by 2:00pm GMT*
Details
* Product appearance and specifications are subject to change without notice.
Sit-Stand Desk Converter - With 35" Work Surface
Customer Reviews
5

(

6

reviews)


5

out of 5 stars
Tell us what you think of this product.

Need a little help getting started? Check out our review guidelines.
(

5

stars)
By:
ELIZABETH
on

02/27/2019
Comment
Helpful?
Yes -

0
No -

0
Report
(

5

stars)
Excellent Product
This sit and stand come ready to go out of the box. Fit nicely on my desk. It rises and collapses with little effort.
Comment
Helpful?
Yes -

13
No -

6
Report
(

5

stars)
Fantastic Desk Lift
By:
NickD_CA24
on

09/14/2017
I have used this desk lift for many weeks and have not had any problems with it. The lift came in a very large and heavy box. The delivery driver had a hard time bringing it to my front door. The box could have easily fit an unassembled coffee table or chair in it. The lift moves very easily with two hands up and down. It has a lot of weight to it so it doesn't come off the desk when you lift it all the way up. You can position the height of the desk at any interval and releasing the handle locks it into position. Whatever height I set the lift to, I can still lean my body weight on it and it will not budge. The rubber feet keep it from moving around the top of the desk while I lean on it. The lift comes with a torque wrench to adjust the pressure needed to move it up and down. I found that I did not need to adjust it after I put my monitor and wireless keyboard and mouse on it. Without any weight on the lift I had to lean on it while holding the handle to move it down (no issues once things were on it). The keyboard tray can be adjusted about 1.5" outward, which was helpful as the top of the keyboard is not visible when the tray is back all the way. My only complaint with the lift is the keyboard tray could be more adjustable. You can only have it in two positions (in or out) by moving 12 screws. And why does it have 12 screws when only 2 or 4 could have been used as it sits on a ledge? This sit-stand desk left is awesome, well built and very solid. It could have a more flexible keyboard tray, but this doesn't matter because it is so well built. I received this product in exchange for an unbiased review.
Comment
Helpful?
Yes -

0
No -

0
Report
(

5

stars)
Excellent Sit-Stand Workstation Work Surface
By:
Wizzardp1
on

09/13/2017
ARMSTSL Product Review Sit-Stand Desktop Workstation with 35" Work Surface StarTech #: ARMSTSL The Sit-Stand Desktop Workstation Work Surface arrived for review and it came in a very large and somewhat heavy box. The packaging materials were the typical Styrofoam with cardboard outer shell. There was a large box inside that contained only a product manual and a bag with 2 different size "Allen" keys for adjustment to the work surface. The use of Styrofoam package was necessary to ship this product safely but it is hard to clean up the little bits and pieces as you break apart the packaging (as well necessary to break it up for garbage removal). A bag or much smaller box could have also been used for the product manual and Allen tools but the large box may have been part of the overall packaging in order to properly secure the product. The work surface itself is every light and is covered in a large plastic bag so it was easy to pull out of the shipping box if you choose not to break the shipping box down to get at the contents. Please keep in mind that none of the above distracts from the quality or functionality of the work surface but wanted to make sure there was awareness of delivery. The work surface itself is a combo of plastic and metal surfaces with a manual hydrolytic lift mechanism in the middle cross supports with a lever / lock on the right side to control the positioning of the desktop up and down for proper leveling of the work surface. There seems to be almost an infinite level setting available. It is quite easy to pull or squeeze the lever / lock upwards and the work surface will glide effortlessly upward until you release the lever / lock. Adjusting the work surface down is where there may be a slight issue, depending on any kind of disability. You have to the squeeze the lever / lock and then physically with your arm or forearm push down on the top of the work surface to get it to adjust down. This can be difficult depending on the amount of equipment you have on the top of the work surface. However, you can use the "Allen" keys to adjust the tension to suit the individual according to their ergonomic assessment. Please ensure that when doing any adjustments that you are keeping within the weigh specifications within the product manual. Maybe a consideration for the next version is to add a pull out handle on the front of the work surface to assist with the descent of the work surface; you could use the keyboard tray to pull down but you have equipment the There are two (2) cable loops to feed any cabling through on the top back of the work surface but may not be big enough if you have more than two (2) monitors or other equipment. There are no other cable runs besides these two (2) loops so care is needed when raising or lowering the work surface. The attached keyboard tray will hold both a full size keyboard and mouse (mouse pad not really needed) so there is sufficient space to hold these devices; even a gaming keyboard / mouse but please be careful of the width of the keyboard. Any ergonomic assessment will recommend using any sit-stand desk ONLY for 15-20 minutes at a time. This is the normal time when standing for long periods when you start shifting on your feet so it is time to adjust the work surface and sit down. An ergonomic assessment will take into account any disability for proper usage of a sit-stand work surface so as to not aggravate any existing injuries. Overall the ARMSTSL from StarTech is a reasonably pricing, good quality (fit and finish) and functional sit-stand work surface that won't break the bank. Note: Several photos have been attached to give a better view and feel of both the fit and functionality. Disclaimer: An ergonomic assessment will provide recommendations on these work surfaces and maybe on brand as well but it will vary based on the insurance company as they are the one doing the assessments based on employee need. The assessments can also be done by other non-insurance or professional assessment companies. Disclaimer: "I received this product in exchange for an unbiased review."
Comment
Helpful?
Yes -

1
No -

0
Report
(

5

stars)
5/5 Excellent
You couldn't ask for more with this sit-stand desk addition. It is quality built with a non-slip surface both on the top and on the feet that grip to the desk so there is no worries about things falling off the stand or the stand falling off the desk. The locking mechanism is solid and easy to use and moving the stand up and down is incredibly light-weight and easy. I was able to put my two monitors on this stand and still have room for paperwork. If I had one con, it would be that the keyboard tray could be a little deeper to support my wrists while typing. However, definitely don't let that be a blocker as I was able to get used to it within a few days.
Comment
Helpful?
Yes -

2
No -

0
Report
(

5

stars)
Sit-Stand Desk Made Easy
By:
HuberJ1234
on

08/23/2017
I have been in the AV/IT Integration space for over 30 years. I found this unit fully assembled for easy out of the box use. The work surface is very roomy, accommodating 2 monitors. The scissor lift mechanism provides straight up and down height adjustment for increased stability and small footprint. The keyboard tray is also very roomy for easy typing and mouse movement. The elegant cable management was well thought through. Overall, this is an exceptional product and a must for the home or office environment. What is Included: 1 - Sit-Stand Workstation 1 - Small Hex Key 1 - Large Hex Key 1 - Quick Start Guide Note: "I received this product in exchange for an unbiased review."
Comment
Helpful?
Yes -

2
No -

0
Report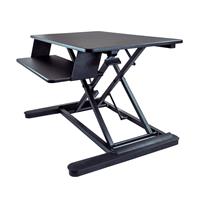 Sit-Stand Desk Converter - With 35" Work Surface
Product ID: ARMSTSL